Events / June 8 - 18, 2020
The Charter of Trust gathers virtually for its 5th Collaboration Week
With millions of people currently working from home, the COVID-19 pandemic has stressed the importance of cybersecurity in today's digital economy. In this context, the Charter of Trust kicked off its second, but first-ever virtual, Collaboration Week of 2020, from 8-18 June. Colleagues from all around the globe came together to exchange ideas and to continue growing the strategic outlook of the Charter of Trust, more than two years after its creation.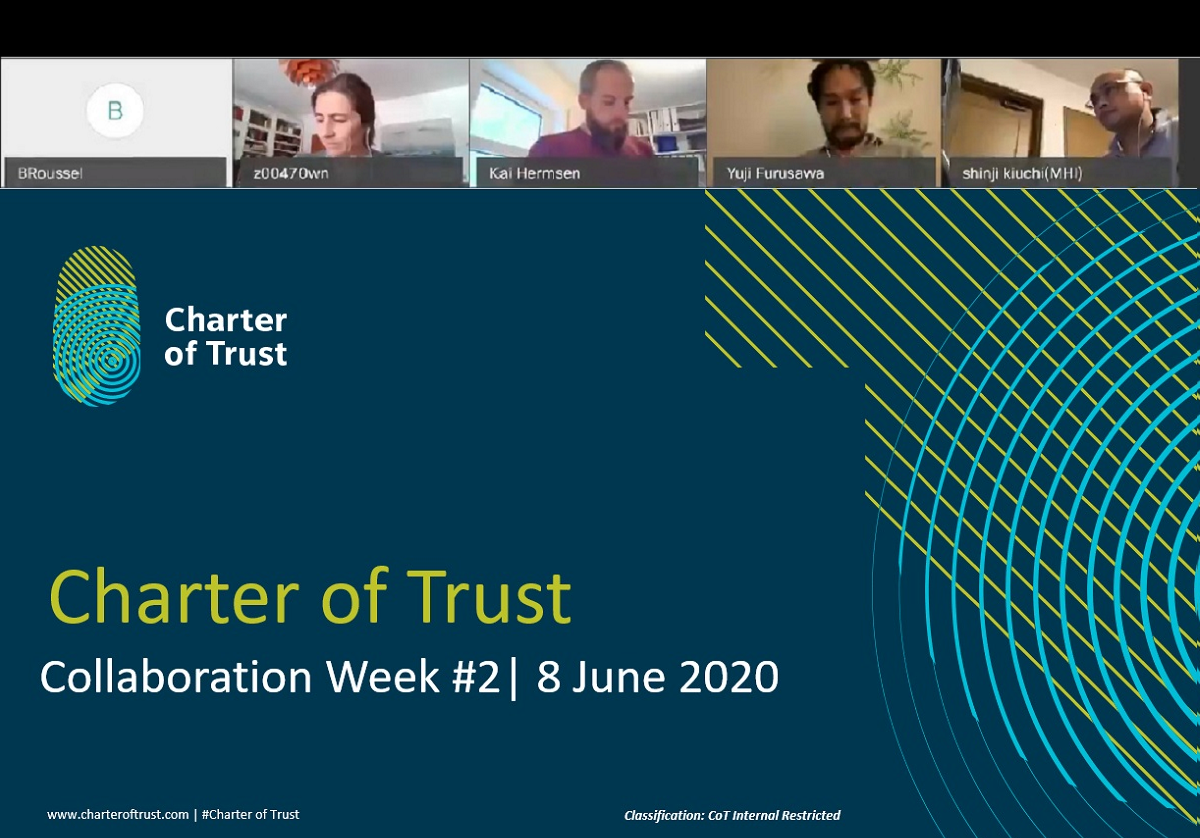 Charter of Trust members gather virtually for 5th Collaboration Week
Over seven days, Charter of Trust Partners met in taskforces, each dedicated to one of its 10 guiding Principles:
Principle 2 "Responsibility throughout the digital supply chain"
Principle 3 "Security by default"
Principle 6 "Education"
Principle 7 "Certification for critical infrastructure and solutions"
Principle 8 "Transparency and response"
The five Principle Taskforces took stock of the work done over the past half-year and set concrete objectives for the second half of the year leading to the 2021 Munich Security Conference. Taskforces cross-aligned on the interaction between one another to ensure the creation of a holistic picture on the interplay of cybersecurity efforts.
Collaboration between trusted Partners is of utmost importance, and so is the knowledge-exchange with external organisations to share best practices. Charter of Trust Partners benefitted from key insights from the OECD, the UK National Cyber Security Centre's CyberFirst initiative, the Information Security Forum (ISF), the International Society of Automation (ISA) Global Cybersecurity Alliance and the Automotive Information Sharing & Analysis Center (Auto-ISAC).
Through different time zones and sectors, the members of the Charter of Trust have created a vibrant team spirit and a strong vision to make the digital world of tomorrow safer. After the success of its first virtual Collaboration Week, additional online events are being planned to further advance the synergetic nature of the initiative.