Events / November 15, 2021
Register now for the Charter of Trust Global Event "Many perspectives, one mission: securing critical infrastructure" on 15 November
On Monday 15 November, the Charter of Trust will host a global event with three sessions tackling the objective of securing critical infrastructure in Japan, Europe and North America. All three sessions will feature high-level speakers from the public and private sectors.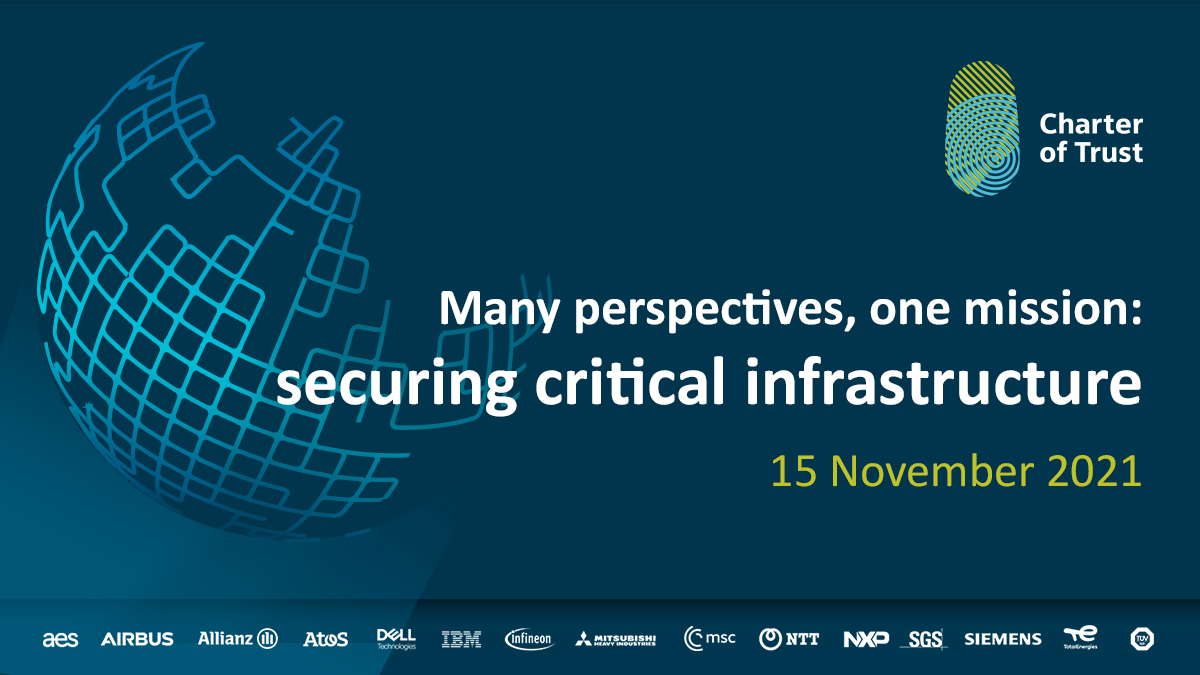 Join us for the Japanese session from 5:00 PM to 6:00 PM JST (9:00 AM to 10:00 AM CET), for a stimulating discussion on the cybersecurity of the 2020 Tokyo Olympic Games and critical infrastructure with, among others, Tetsushi Yoshikawa, Deputy Director-General, National center of Incident readiness and Strategy for Cybersecurity (NISC), Cabinet Secretariat, Government of Japan and Takeshi Tachi, Executive Director of Technology Services​,Tokyo 2020 Organizing Committee of the Olympic and Paralympic games (TOCOG)​.
Join us for the European session from 2:30 PM to 4:00 PM CET (8:30 AM to 10:00 AM EST), to focus on the issue of cyberattacks on critical infrastructure in Europe with, among others, MEP Eva Maydell (EPP, Bulgaria), Member of the Committee on Industry, Research and Energy and Marianthi Theocharidou, Cybersecurity Officer at the European Union Agency for Cybersecurity (ENISA).
Join us for the North American session from 11:00 AM to 12:00 AM EST (5:00 PM to 6:00 PM CET), for insightful discussions on how to build resilience in critical infrastructure with, among others, Kiersten Todt, Chief of Staff at the Cybersecurity and Infrastructure Security Agency (CISA) and Michèle Mullen, Director General of Partnerships and Risk Mitigation at the Canadian Centre for Cyber Security.
Established in 2018 at the Munich Security Conference by leading multinationals, the Charter of Trust is a global cybersecurity initiative aiming at building trust in the digital economy and improving safety in a hyperconnected world.
We look forward to welcoming you at this virtual event. To register for one or several events, please click the buttons below.
With our best wishes,
The Charter of Trust