Events / July 4 - 4, 2022
Meet and greet Israel's leading security companies
Networking reception hosted by Charter of Trust Partner Allianz
(metafinanz branch) and Israel's Economic & Trade Mission in Munich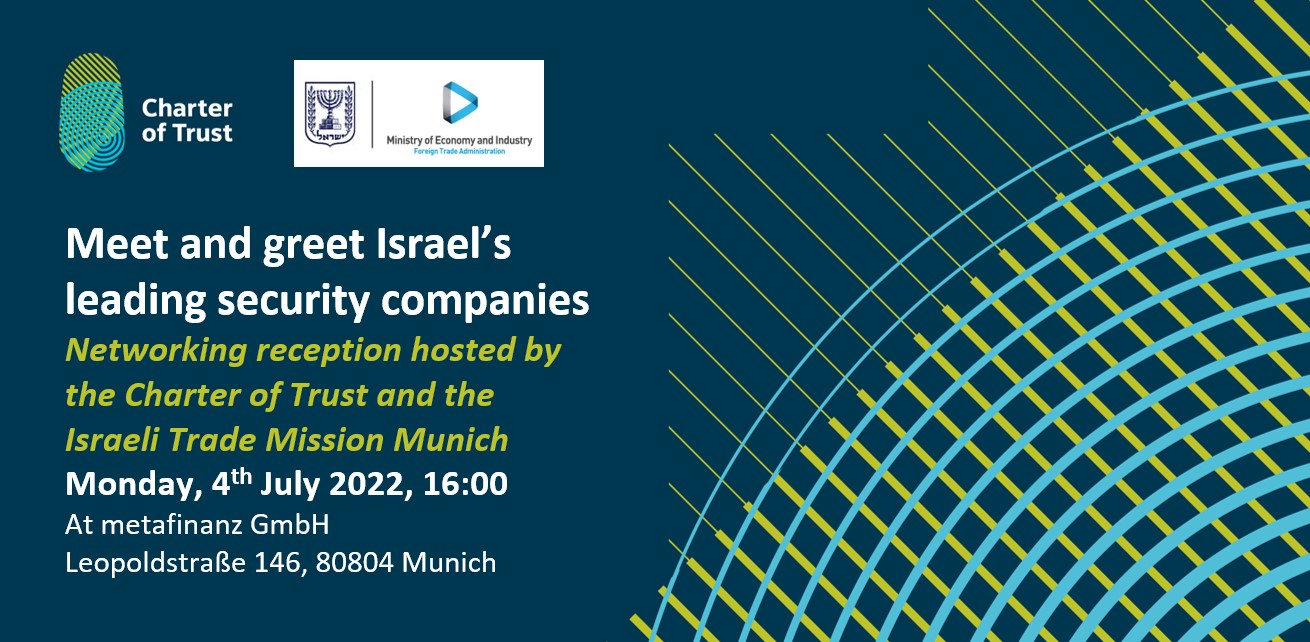 The Charter of Trust was founded on 10 Principles which its signing Partners consider essential for building trust in digital technologies. As part this effort, the nexus of digital cybersecurity and the physical security of critical infrastructure is of the utmost importance. More and more cyberattacks target critical social and economic infrastructure such as pipelines, powerplants, and hospitals, as well as businesses. The Charter of Trust is committed to facilitating international dialogue on this vital issue.
To this end, we are delighted to co-host this event together with Israel's Economic & Trade Mission. During the reception you will have the opportunity to meet representatives of each company. We would be happy to organize one-to-one meetings with any of the guests, please see list of attending companies below. You can indicate who you would like to meet on the online registration form.
Agenda:
16:00-16:30……………….Doors open
16:30-16:40……………….Official welcome by the Israeli Trade Mission Munich
16:40-17:00……………….Introduction by the Charter of Trust
17:00-18:30……………….Pitching session by Israeli companies
18:30-21:30……………….Networking session with 1-on-1 meetings as requested
ca.21:30…………………….End
The following companies from Israel will be present at the reception.
Magna BSP: drones, perimeter security, sensors
Magos Systems: perimeter security, critical infrastructure, radar, sensors
Octopus Systems: command and control, alert systems, remote monitoring, AI
Oosto: access control, video monitoring (to be confirmed)
RT: surveillance, intelligence, balloons (to be confirmed)
Sdema Group: critical infrastructure, disaster management, energy, strategic facilities
TDCOMM: private LTE, 5G Networks, mobile edge computing, network security
Vidisco: x-ray, visual inspection
Viisights: behavioral recognition video-understanding technology (to be confirmed)
The event is open to business representatives from the wider cyber and physical security ecosystem or with an interest in the global cyber and physical security agenda.
Snacks and refreshments will be served.
We look forward to welcoming you. To register, please click the button below